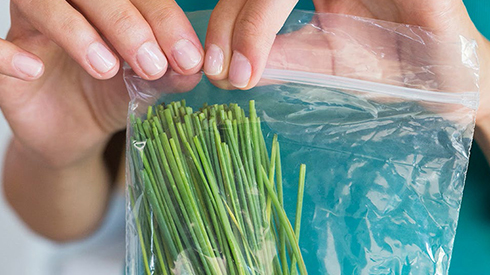 Converted Products
in Food Packaging
Case Studies
in Food Packaging

Engineered plastics pick Washington pears to highlight compostable labels
Maximum separation. It's a visionary concept where all labels, including those adorning cans, produce, plastic containers and more, are completely compostable.
Read More

Putting a lid on it: meet our newest innovation in food packaging
Sitting down and talking to our customers - really listening to their challenges - is often the spark for a new idea or better approach. Such was the case for our latest innovation: a clean-peeling lidding stock.
Read More
Engineered for the rapidly changing demands of the food packaging industry, IEF's diverse offering of bakery bags, wicket bags, and ice bags are meticulously made to perform. Each of our formulations take storage environment, package weight, puncture and tear resistance, seal-ability and graphics into careful consideration, so you can deliver both freshness and peace of mind.
Let us put our combined expertise and resources to work for you. If you don't see what you are looking for here, we'll happily make what you need. Just ask us.
Food safe certified
IEF is HACCP-certified (hazard analysis and critical control points). This means we comply with food safety standards to prevent physical, chemical and biological hazards in our packaging.
In order to identify and subvert any possible hazards in the process, we are continually analyzing and improving upon our process.
We'll protect you so that you can protect your customers, and your reputation.