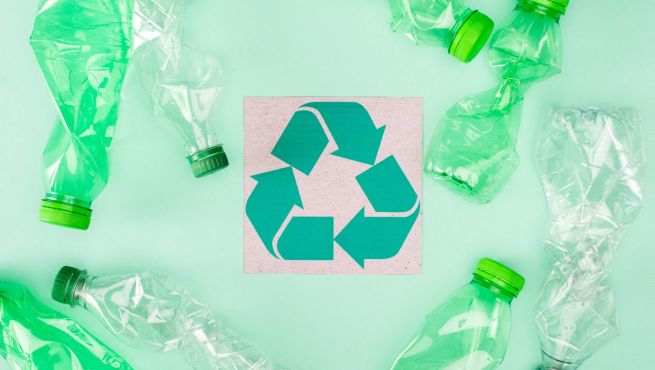 As the demand for sustainable plastic packaging continues to grow, it's important to be aware of current and upcoming flexible packaging industry trends. The use of PCR (post-consumer recycled resins) has seen significant growth in recent years, and is projected to continue to grow as plastic recycling technology advances. As a leading North American manufacturer of plastic films, we feel it's our responsibility to educate our customers, and the public, on how they can make their packaging more sustainable. In today's Sustainability Spotlight, we'll be answering some frequently asked questions regarding PCR and recycled plastics in general.
What is PCR and PIR?
PCR, or post-consumer recycled resins, are re-pelletized plastic resins that are sourced from plastic materials that have reached the end of their lives as consumer products. Some common sources of PCR include recycled plastic bags and water bottles.
PIR, or post-industrial recycled resins, are sourced from materials used in industrial applications.
In both cases, the products are cleaned and sorted at recycling centers, then are processed into resins that can be used to create new products.
Why is recycled plastic more sustainable?
Recycled plastic resins can be used in varying amounts as a substitute for virgin resins. Using recycled content lowers the overall demand for virgin resin production, which creates a more environmentally-friendly package/product from a raw materials point-of-view.
The risk of environmental damage when using plastics is a result of the inherent benefit of plastic use: longevity and durability. We use plastics as they can last longer and are stronger than most alternative materials, but this becomes an issue when plastics find themselves as litter or leakage into the environment. The use of recycled content means less virgin material being created, and less opportunities for leakage to occur. Additionally, using recycled content gives extended life to existing materials that have been collected via recycling, helping to build a sustainable circular economy.
What is recycled plastic used in?
Recycled plastic content can be used in a variety of applications. From flexible packaging applications and plastic bags, to highly specialized barrier films and food packaging, recycled resins can be substituted in most scenarios.
Check out our InteGreen™ Family of Sustainable Films, which features films with PCR/PIR content, and several other environmentally-friendlier sustainable plastic film alternatives.
Is recycled plastic safe for food packaging?
FDA-approved food grade recycled resins are available, and safe, for a variety of food packaging applications. Any recycled resins used, regardless of the application, have been properly washed and cleaned throughout the recycling and re-pelletizing process.
Does recycled plastic perform as well as virgin plastic?
In most cases, the use of recycled resins does not result in a significant decrease in overall performance. However, this depends on the end-use application and the amount of recycled content being used.
The most common side-effect of using significant amounts of recycled resins is that it can affect the clarity of the film, as films utilizing recycled resins tend to be hazier than those without.
Are recycled resins right for me?
For any additional questions regarding the use of recycled plastic resins in your next project, be sure to reach out to your local film expert.