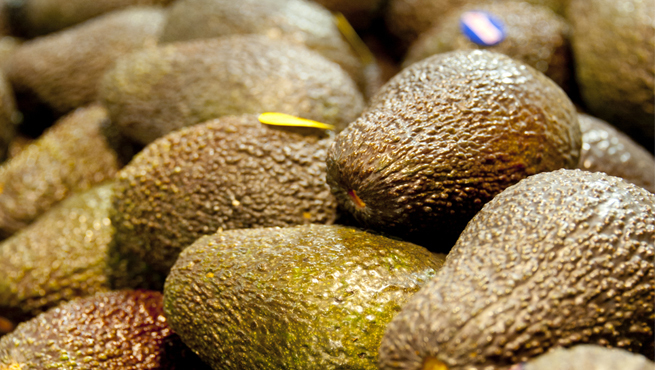 What stops a full crate of rotten avocadoes from being composted? A tiny, plastic sticker.
While it may seem inconsequential considering its size, fruit stickers are commonly made with polyethelene and a conventional adhesive making them non-compostable. As a result, if the stickers are not removed, the easiest option for a distributor who receives a bad crate of fruit is to throw it right into the garbage, which contributes to landfill volume and methane gas.
Luckily, there is a better, more sustainable solution to this problem: make the fruit stickers compostable. So, what goes into making a compostable sticker? In order to determine that, we'll need to first define the difference between compostable and biodegradable films.
Compostable vs. biodegradable
End consumers might confuse the two but for the packaging industry, it's a distinction that needs to be clear and concise. Especially when standards and requirements need to be met to earn specific certifications such as ASTM D6400.
Compostable films breakdown under a controlled process into organic matter. The process itself is very specific as compostables do not always breakdown in landfills. These conditions can only be achieved in industrial facilities and can take anywhere from 60 to 180 days or longer. But, once the process is complete, the material can be converted into a rich soil supplement.
Biodegradable films on the other hand, breakdown through a natural or biological process. Since this process relies on nature to do all the hard work, it takes an unspecified amount of time, ultimately resulting in CO2, biomass and water vapor.
With that clear distinction made, now it's time to look at what's involved in creating a compostable sticker.
The layers of a compostable sticker
First, a quality film is ideal. Using a multi-layer PLA film is key, as monolayer film isn't suitable for meeting opacity requirements. The film should have blemish-free, white opacities with flat sheeting (no folds or wrinkles across the web). Consistent gauge is also necessary for the smooth coating and printing of universal product codes (UPCs). Any pigments or additives in the film will also need to be compostable.
The second element is a biodegradable adhesive that is made specifically for direct contact with foods. Avery Dennison, for example, has an adhesive that works well here.
Finally, the labels needs to be certified through one or all of the right channels to ensure that they are suitable for composting. This is a one-time step and could take considerable effort, unless the film and adhesives are selected from pre-certified sources.
Compostable stickers have not been widely adopted by the produce and packaging industry, yet. But, this presents an opportunity for the labelling and flexible packaging industry to become innovative leaders in the fight against food waste. Now is the time to start informing customers about compostable stickers as a new solution to a significant problem.
If you have a new or current application that needs a truly compostable film, get in touch with our IEF Sales Team to ask for a quote on our PCGR-COM film in Clear or White that is ASTM D6400 compliant.