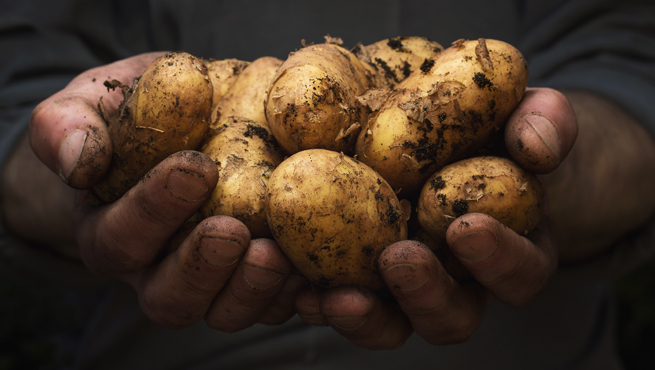 The plastic film market is an ever-changing landscape and this statement holds true now more than ever. Among the calls for thinner films, stronger formulations and outright bans, another call is growing and getting louder every day: sustainable packaging.
It can't be denied that plastic packaging has benefits. They keep our food fresh and protect all kinds of products from damage or contamination. But when customers and end users demand change to reflect growing sustainability concerns, Inteplast refuses to shy away from trends with industry-wide impact. Especially ones that can help the environment. Such a case occurred recently when Inteplast was approached by one of its customers to integrate BioLogiQ's starch-based polymer technology into its existing film formulation to produce a more environmentally-friendly potato bag.
Starch from scratch: Unique requests to custom solutions
With the call for a unique formulation in hand, the customer approached some of their other suppliers without any uptake, but IEF Dalton saw the potential to create something innovative and sustainable. Having already made an impact in the market by building a reputation for producing high-quality films, the IEF Dalton facility was more than ready to take on the challenge.
"When we started supplying films out of Dalton, everybody really stood up and took notice," said John Hogue, Sales and Technical Support at IEF Dalton. "We've got a very good technical lab, which has drawn a lot of attention."
Impressed with what they saw and learned, IEF Dalton reached out to BioLogiQ to learn more about the starch-based polymer technology and how it could be used to produce the TaterMade™ Bag without compromising performance.
We were someone to approach to make this happen.

– John Hogue, Sales and Technical Support
This chip bag sure is loud
Using starch-based polymer additives to reduce plastic use is not a new idea. If you've been in the industry long enough — or you're a chip aficionado — you may recall that several years ago, PepsiCo introduced starch-based polymers into the bag formulation for their Sun Chips brand. While the idea was applauded for its efforts to reduce plastic, consumers were anything but thrilled when they found the new formulation made the crinkling of the chip bag exceptionally loud. The sound a chip bag makes may seem inconsequential, but there was enough backlash that PepsiCo took notice and stopped producing the biodegradable chip bags.
While previous experience with starch-based polymers may have left a sour taste in the industry's mouth, the Dalton team was more than willing to support the customer in its efforts. After conducting extensive research, IEF Dalton was able to quickly incorporate the starch-based polymer additive into an existing IEF product. Using its extensive expertise in resin blending, IEF Dalton produced a product that met or exceeded the performance characteristics of the customer's original film formulation. Additionally, the customer was able to run the new bags just like they would run their standard plastic film bags, making it a seamless process to start producing the TaterMade™ Bag in their facility.
From spud to sustainability stud
While the TaterMade™ bag is still in development, IEF Dalton continues to assist its customer in continually improving the new formulation.
"Originally, I only had one carrier resin," said Dennis Turnage, Director of Product Development at IEF. "Now they have two different carrier resins, which allows us to get better compatibility so that it disperses itself a lot better."
Eco-friendly alternatives like the Tatermade™ Bag are soon to become the norm in the plastic film industry, and the demand is only expected to grow. With industry focus shifting, Inteplast's formulating abilities and technological advancements will ensure challenges like these can be met head on without compromising performance.
Are you interested in developing a new, customized film solution? Let us know how we can help.