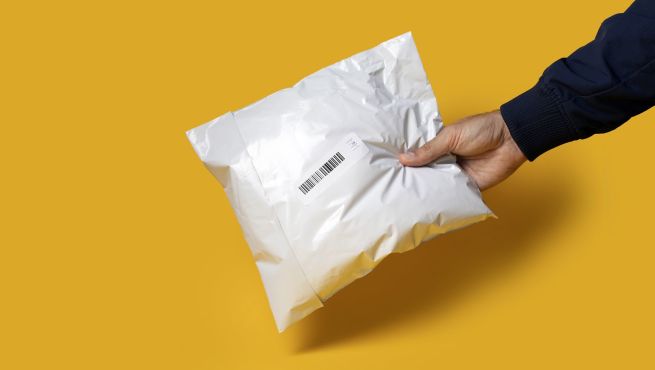 Retail e-commerce sales in North America have been steadily climbing for the past decade, with sales having increased by over $300B from 2018 through 2021, and a further projected increase of 11% heading into 2022. This trend has made PE mailers part of our everyday lives, not only the traditional lay-flay mailer bag variation, but also bubble-lined mailers with paper or poly skins. Did you know that PE mailers have a lower carbon footprint than paper or corrugated alternatives? Did you know that most PE mailers are recyclable? Did you know that IEF is a leading supplier of films for both PE mailer bag variations? In today's Product Spotlight, we're taking a closer look at poly mailer bags and the customized films that go into them.
Big Things Come in Small Packages
Poly mailers utilize specialized polyethylene films that are designed specifically for the shipping process. These films feature excellent protection from the elements, including water and moisture barriers, and can withstand the vigorous wear and tear that can occur during transit.
When compared to traditional alternatives such as corrugated boxes, PE mailers provide an array of benefits. The flexible nature of mailer bags allows them to take up significantly less overall space, creating the opportunity for more efficient shipping. PE mailer bags are also much lighter, meaning less fuel is required to transport the same amount of goods.
Contrary to common belief, poly mailers typically have a lower carbon footprint when compared to paper or corrugated alternatives. On a package-to-package comparison, the manufacturing process for a poly mailer typically consumes less energy and emits less greenhouse gas than the manufacturing process for a corrugate box*. In addition, the use of poly mailer bags can also wind up reducing the total required amount of packaging materials, as filler materials that may be needed to fill out a corrugated box are eliminated.
Poly mailers can also be customized to feature different colors, and can be printed to display a company's logo or specific text.
Aside from the traditional lay flat mailer bag, mailers can be customized to feature bubble-lining for added protection. The bubble-lining can also be customized to adhere to a paper skin-layer. Bubble mailers provide businesses an attractive alternative for packaging and shipping more fragile items that may not be suitable for a traditional non-bubble mailer, while still maintaining the packaging benefits.
Want to learn more about customizable films for bubble mailers? Reach out to your local IEF expert today.
Substituting Sustainability
IEF's films for mailer bags can be designed to feature varying amounts of recycled content, including post-consumer recycled resins, post-industrial recycled resins, or both! Utilizing recycled resins helps to reduce the overall amount of virgin materials required for production, which in turn reduces the net amount of plastic that finds its way to landfills.
In addition to utilizing recycled content, IEF has film options available that can be used as part of a recyclable mailer bag construction.
Interested in learning more about how IEF is helping to create more sustainable and environmentally-friendly e-commerce packaging? Reach out today and ask about our InteGreen™ Family of Sustainable Films.
Leave it to the Experts
IEF has an extensive amount of experience in supplying proven PE film solutions for mailer bag applications to some of North America's largest e-commerce companies. Reach out today to learn more about how we can service your next project.
At IEF, It's About the Film.

*Environmental impact estimates were made using the Environmental Paper Network Paper Calculator Version 4.0. For more information visit www.papercalculator.org.