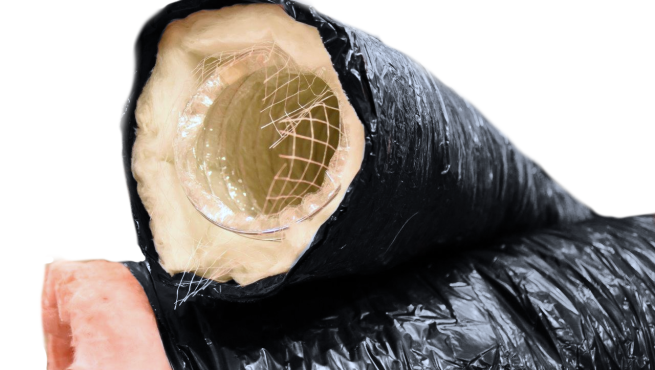 Insulated flexible ducts have become a staple for heating, ventilation, and air conditioning (HVAC) systems worldwide. Supplying heat in the winter and cold air in the summer, HVAC flexible ducts are relied on by millions to provide year-round temperature control for both households and businesses alike. Did you know that IEF manufactures highly specialized polyethylene (PE) films for HVAC applications? In today's Product Spotlight, we're taking a closer look at some of the products Inteplast Engineered Films supplies for the HVAC market.
HVAC Black Jacket
HVAC flexible ducts are comprised of several components. At IEF, we manufacture films that are specifically designed to be utilized as the outer layer of the air duct, known as the black jacket. Aside from providing a surface for printing product information and branding, the black jacket plays a crucial role in the overall duct's construction.
Our black jacket films feature flame retardant technology, and adhere strictly to UL 181 safety standards. In addition, we put our black jacket films through an extensive series of in-house testing to ensure the highest levels of quality and consistency.
IEF's black jacket films can be customized to fit a variety of widths, lengths, and gauges, and can be perforated to size upon request.
Want to learn more about out HVAC black jacket films? Reach out to one of our technical experts today.
Flexible Duct Packaging Bags
In addition to HVAC black jacket, IEF manufactures the external packaging bags that contain and protect the finished flexible air duct.
Available as bags on rolls, IEF's flexible duct packaging bags feature excellent seal strength and elongation properties, which are critical in preventing the potential hazards of unwanted/unexpected flexible duct expansion.
IEF's HVAC flexible duct packaging bags are available in a variety of sizes and gauges, and can feature printing upon request.
Check out this case study on a recent flexible duct packaging bag improvement project, and be sure to reach out with any questions you may have.
Testing, Testing, 1 2 3...
IEF's technical team prioritizes performance and consistency when testing our films for HVAC applications. Some examples of our HVAC film testing include:
Elmendorf tear and dart impact strength
Flame light/relight
Coefficient of friction (COF)
Seal strength (air test)
Ink adhesion (tape test)
Tensile properties
Opacity and blocking checks
To learn more about our film testing capabilities, or to inquire about our standard products for the HVAC market, reach out to a technical expert today!
At IEF, It's About the Film