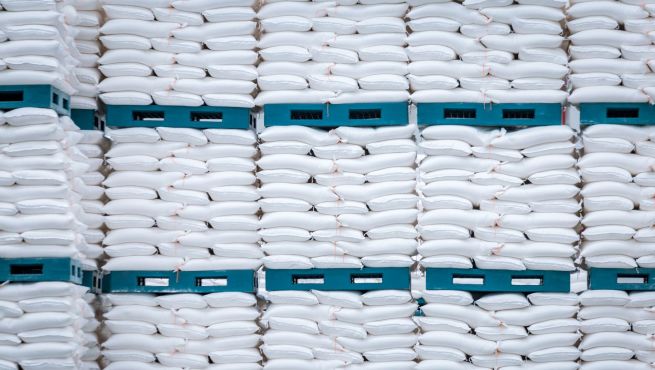 With years of experience as a leading North American manufacturer of plastic films for heavy-duty sack (HDS) applications, we've built a product portfolio that covers all the bases. Heavy duty sack films require a very unique set of characteristics, from high-levels of tear resistance and film strength, to more technical factors such as coefficient of friction (COF) levels for bag stacking and UV resistance. In today's Product Spotlight, we'll take a closer look at heavy-duty sack films and some of the products they're designed to package.
Films Built to Handle Bulk
Heavy-duty sacks are often the application of choice when it comes to packaging heavy/bulky products. HDS packaging can be found in a variety of places, including on the shelves of your local grocery or pet supplies store, as well as at home improvement stores and lawn and garden centers.
The specialty films used for heavy-duty sacks often require extreme amounts of tear resistance and general film strength, and can be customized to handle a variety of temperatures. These films also typically feature excellent seal strength.
For applications requiring bag stacking, the coefficient of friction levels can be adjusted to prevent slipping and sliding when handling and transporting the sacks.
UV resistance is also a key factor to consider when designing heavy duty sack films, as many of the lawn and garden products that utilize HDS are often stored outdoors.
It's important to stick with the experts when searching for a heavy-duty film supplier. At IEF, we can supply films for a wide variety of heavy-duty sack applications, including but not limited to packaging for products such as:
Insulation
Grains
Grout or Concrete Mix
Fertilizer
Mulch and Soil
Pet Bedding & Supplies
Resins/Chemicals
Wood Pellets
Our technical team can also customize our films based on our customers' unique specifications. Reach out to your local film expert today for more information.
Where Sustainability Meets Performance
At IEF, we embrace the opportunity to work directly with our customers to develop more environmentally-friendlier solutions. Our films for heavy-duty sack applications can be customized with sustainability in mind, without the worry of sacrificed performance. Our all-PE blends are recycle-ready, and can be designed to feature varying amounts of post-industrial (PIR) or post-consumer (PCR) recycled content.
For more information on how IEF can help make your packaging more sustainable, reach out today and ask about our InteGreen™ Family of Sustainable Films.
At IEF, It's About the Film.