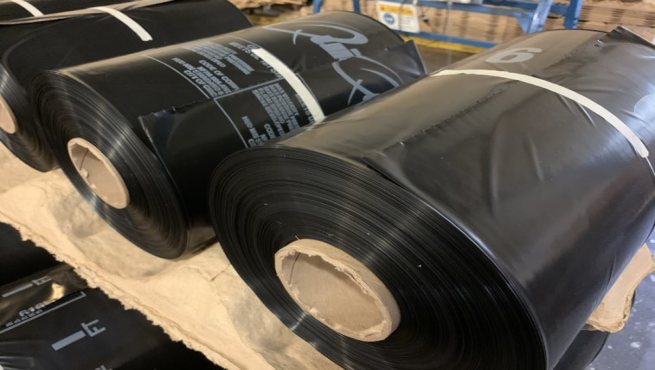 A working and efficient HVAC system is an essential infrastructure component for the vast majority of buildings and plays a crucial role in comfort, energy use and air quality.
The global HVAC systems market was valued at USD 130.5 billion in 2019 and is expected to grow to USD 191.35 billion by 2026 as the result of increasing urbanization and demand for energy-efficient HVAC systems.
As a long-time supplier to the HVAC industry and a member of the Air Duct Council (formally Air Diffusion Council), IEF is continually investing in innovative products and its production and distribution capabilities to serve the HVAC market as it grows and develops.
Heavy-duty HVAC
IEF produces two important HVAC components: polyethylene FR jacket, and the specialized packaging bags for the ducting.
The flexible polyethylene jacket provides a barrier, UV protection, and prevents damage while increasing the efficiency of the HVAC system. The FR jacket is certified by UL under the UL 181 standard for inflammability properties.
"The jacket has to be flame retardant as part of the UL 181 certification, and it also has a smoke development number it has to conform to," explains Tony Vaccaro, Sales Manager at IEF.
The bags that the finished ducting is packaged in are their own unique and specially designed product and are available as premade bags or rollstock.
"The bags are specialized in the sense that they require an extreme amount of seal strength and elongation properties," explains Vaccaro. "The bag can compress a 25-foot duct in a two- or three-foot package, so the bag has to accept the duct under compression and stay sealed and hold its shape once sealed."
The jackets can also be perforated to the desired specifications, and both the jackets and bags can be printed for branding and certification information.
"We extrude, print, perforate and convert all in line," Vaccaro points out.
Planning for the future
Although IEF has been serving the HVAC market for almost two decades, there's always room for growth and improvement. IEF is committed to investing in new production lines, equipment and technologies to accommodate the growing industry.
"Our vision is growth," says Vaccaro. "We want to continue to grow with the industry for the long term, and in addition to the new capacities and capabilities in our Texas facility, we're looking at geographically strategic locations for additional manufacturing."
Today, IEF has multiple improvement projects in place to increase capacity specifically for the HVAC market.
New formulations and equipment allow for better product control and consistency, as well as improved production rates and yields. There are also sustainability benefits involved with new resin blends and compositions, as these enable downgauging for reduced material use.
"We're looking at higher performance versions to allow for downgauging to reduce our footprint and the customer's footprint," says Steve Brzostowicz, Technical Director at IEF. "This is a long-term market for us, and we're investing in new equipment specifically."
"It's a cost-reduction initiative and a sustainability initiative, all wrapped up in one," added Vaccaro. "We're a long-time supplier for this market, and we're growing our capacity and our capabilities for these products."
In addition to the various investments made into serving the market, IEF presented an HVAC-focused Virtual Expo customer event in October. Overall feedback showed nothing but praise. To learn about this event or future similar events, please contact us!
Interested in a cost-effective solution for your HVAC needs? Reach out to one of our experts, and we'll be happy to help.