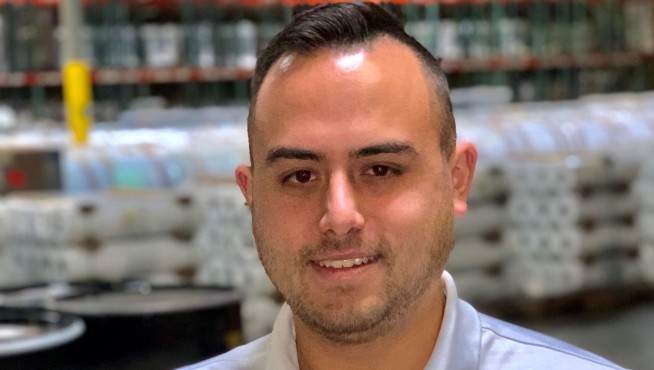 With an educational background in Packaging Science and previous internship experience at Inteplast Engineered Films, Brandon Phan is becoming well-versed in the packaging world. As IEF's newest Process Improvement Specialist, he'll be lending his skills to IEF's processing capabilities with a focus on management and improvement.
We met with Brandon to learn more about his experience in the industry and his new role, as well as what his vision for the future of IEF's processes looks like.
Q: Tell us a little bit about yourself, your education and work experience.
Brandon Phan: I graduated in 2016 from Clemson University with a bachelor's degree in Packaging Science, with an emphasis in food and healthcare packaging. During my last semester I undertook an internship with Inteplast in Garland, Texas, and after I graduated, I was hired full-time.
Q: Congratulations! What did your role consist of as an intern at IEF, and what does it look like now?
BP: As an intern, I was more on the operations side of things, doing some of the day-to-day tasks in the plant, whether it's making sure orders are set up right, or just making sure the plant is running smoothly at the production level. In my role now, I'm somewhat responsible for the process side in the entire division, with a focus on managing trials and processing improvement throughout all the different processes at all of the facilities.
Q: What did you like about IEF that inspired you to join as an intern, and then stay on after graduating?
BP: When I was applying for the internship, IEF was a company that I thought had a large impact in the plastics industry, and it was a great opportunity to get my foot in the door. I stayed because not only were the people on the team just great to work with, but it's also a fantastic company to work with. It really opened my eyes to the plastics industry.
Q: What do you like about the role so far?
BP: My favorite part of my new position is being challenged with new processes or products that we don't make here in Garland and getting to work with different processes and products under development. We have such a diverse product offering and it's a satisfying challenge for me.
Q: Why is process improvement such an area of focus for IEF, and what positive outcomes does it bring?
BP: We're always focusing on continuous improvement at IEF. There's a saying we have at the plant level that goes, "There's always something out there that can be improved. You just have to find it." So, we're really looking for creative ways to innovate and improve processes that haven't been thought of before.
Q: How do these innovations and improvements benefit customers?
BP: For our customers, process improvement has quality benefits that they might not get from some of the other players in the industry. Like I said, by looking at innovative and creative ways to improve processes, it puts us a step ahead quality-wise and also in terms of lead times and outputs. It really streamlines the whole process and makes everything from point A to point B a lot smoother.
Q: Are there any sustainability initiatives that IEF is working on?
BP: With every real process improvement, sustainability has to be one of the aspects that you look at. Sustainability is really a key component for all customers in the market nowadays, and everyone's looking to see how they can be more sustainable. We go into each project looking at sustainability as one leg of a process or a product improvement. It's an exciting time for plastics. They're not going away anytime soon and, on the sustainability front, we're trying to make our processes and products as sustainable as possible by always looking for those new, innovative ideas. That's what we strive to do here at IEF.
Q: Before we wrap-up, is there anything interesting you'd like to share about yourself outside of your work life?
BP: I've been playing competitive rugby for 10 years, and this upcoming season will be my third with my current team, the Dallas Harlequins.
To learn more about how IEF's processes can help with your engineered film needs, Click Here.