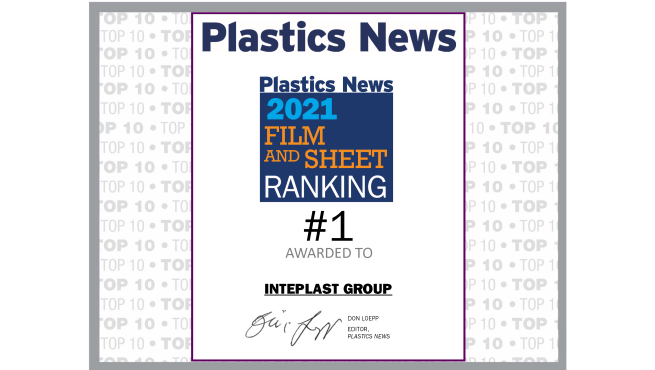 Plastics News has released its 2021 North American Film and Sheet manufacturers rankings, and the Inteplast Group has claimed the top spot. With an estimated $3.15B in film and sheet sales driven by an industry-leading 17% growth, the Inteplast Group has claimed the top spot in the annual rankings for the first time.
The annual list showcases the top manufacturers of plastic films and sheets, ranked by estimated sales revenues. A regular member of the rankings, Inteplast placed third in 2020 and 2019, and second in 2018.
As a division of the Inteplast Group, the IEF team is extremely proud to have helped contribute to this exciting accomplishment, and is looking forward to continued growth moving forward.
When asked about the rankings, IEF President Bob Stein stated, "At IEF, we continue to focus on bringing value to our customers. Growth rankings is some indication of this success as it is a proxy for customer satisfaction. Regardless of ranking, our focus will continue to be on working closely with our customers to solve problems and enable them to grow to the levels they aspire."
Want to learn more about how IEF can service your plastic film needs? Reach out to one of our experts today!