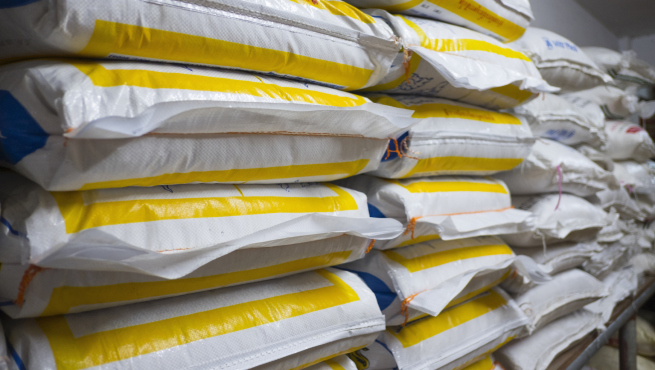 As IEF continues to create its standard product offerings to help customers shorten lead times, simplify their purchasing process and improve overall efficiency, we'll take a deeper dive into one such offering this month: heavy-duty sack film.
When customers need a strong film that can handle heavy materials in bulk, a heavy-duty sack is the first choice. These engineered films are used in many different industries, from consumer-focused markets like pet food and popcorn, to construction materials such as insulation and cement mix.
Due to their flexibility and versatility, IEF has been hard at work developing heavy-duty sack films that are stronger than ever, while also reducing the gauge to improve sustainability.
We spoke to IEF's experts to learn more about heavy-duty sack films and their applications.
Built to handle bulk
One of the most common uses for heavy-duty sack is the transportation of building materials, which include anything from bulky fiberglass insulation to heavier products such as grout or concrete mix.
"They're typically heavy or abrasive products," explains Steve Griggs, Director of Sales at IEF. "With things like grout, those might be 5 to 20-pound bags, but even a five-pound bag of grout is considered a heavy-duty sack application because you need the toughness of the bag that comes with it."
Since many products used in the construction industry can potentially cause injuries if handled improperly, it's important for the film to be able to resist tears and seal failures. In addition to being strong, heavy-duty sacks containing abrasive materials also need to be stackable, which can be a challenge.
IEF has the capabilities to adjust the coefficient of friction to the customer's needs, allowing for the film to be more or less tacky depending on the application.
"Coefficient of friction is very important in a lot of cases because from a stacking standpoint, if the film is too slippery, your bags will fall off the pallet," says Steve Brzostowicz, Technical Director at IEF. "It needs to be relatively tacky, but not so much that it becomes difficult to process. You have to dial in the coefficient of friction to make sure it fits exactly what the demand is from the customer."
Designed with versatility in mind
Heavy-duty sack films aren't just for construction and manufacturing: you can also find them in your local supermarket. If a product is heavy and bulky, it's likely to be protected by a heavy-duty sack formulation.
"Things that are sold in bulk, like pet food or potting soil for example, would be considered a heavy-duty sack application," says Griggs.
Products that use heavy-duty sack films are common in lawn and garden centers, where products may sit for long hours in the sun. UV resistance is an important property of these films, as long exposure may cause fading of the colours or logo.
Since many products using heavy-duty sack formulations are displayed in retail store shelves, customers may wish to have their film feature custom printing or produced in different colours.
"We can also produce the film in multiple colors, but clear and white are the most common. As with basically any film, we can do custom colors and we can also do custom printing," says Brzostowicz.
The print factor
While IEF is capable of in-house custom printing, packaging converters make up the bulk of heavy-duty sack films sold by IEF.
"These are printer laminators who buy film from extruders like us and work with end users to do their printing and conversion to bags, in order to finish the end product," explains Griggs.
Most food-related heavy-duty sack products will be processed through packaging converters, as printing requirements may change on a more frequent basis. For these customers, machinability and consistent quality is a top priority.
"A printer converter will have the additional requirement of printing the film and running it on their equipment, and that product then must be able to run on the end user's equipment. So, we've got to take those things into account when we're servicing that market, it requires a robust film with great sealing properties, the proper stiffness, and of course, the toughness to meet the demand of Heavy-Duty sack applications" Griggs adds.
Lower gauge, higher recyclability
Sustainability is always an important consideration for IEF when engineering films. While the gauge of a heavy-duty sack film needs to be able to withstand the elements and wear and tear, a strong formulation doesn't always mean a high gauge. IEF is capable of producing a heavy-duty sack formulation at a lower gauge, saving money and minimizing environmental impact.
"You typically get a cost improvement, and obviously from a sustainability standpoint, if you can downgauge 10 percent that's 10 percent less plastic waste that you have going into landfills," said Brzostowicz.
In addition to a thinner film, recyclability and PCR (post-consumer recycled content) are also aspects taken into consideration when formulating these products. Polyethylene used in heavy-duty sack production is easily recyclable, allowing a good percentage of the film to be produced using PCR.
"We can make versions of these products that contain post-consumer recycled content. We are able to create formulations in which PCR makes up about 20 to 25 per cent of the total film content without sacrificing quality or strength," says Griggs.
The IEF Advantage
Resins used to create films are also more durable and sustainable than resins used in the past, thanks to technological advancements in formulations.
"Due to our size, we have good relationships with all of the major resin suppliers and we're able to use the latest and greatest technology that they have," says Brzostowicz.
Aside from technical capabilities, IEF also holds a unique advantage in the distribution and production capabilities of films.
"These are products that touch several different markets, and from my standpoint I think one of the advantages that IEF has from the service standpoint is multiple facilities through North America," says Brzostowicz, "if we are busy in one plant, we can move it to another and probably still hit our standard lead time, which is competitive in the marketplace."
More heavy-duty sack products are set to enter IEF's standard product offering portfolio shortly, with some already available.
To learn more about heavy-duty sack products or our other standard product offerings, get in touch with one of our experts here.