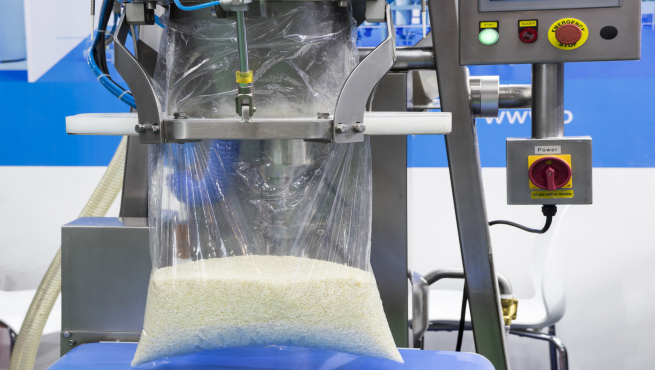 The prepared foods market, a category that includes meats, cheeses, dried goods and soups, is growing in popularity around the world thanks to the ease of preparation and storage longevity capabilities that these food types possess.
The North American deli food market is expected to reach $255.53 billion by 2023, driven by consumers with fast-paced lifestyles who demand convenient and filling meals.
In order to keep up with demand, producers need to package these products efficiently while also ensuring a proper seal to maintain freshness.
Horizontal and vertical form fill & seal films are the perfect packaging choice for these types of products. Practical and straightforward, these films are unique in that the bag is made while the product is being filled.
Vertical or horizontal: Which is right for my product?
Form fill & seal films are applied either horizontally or vertically depending on the product being packaged, and each method requires its own unique machine.
Both methods come with their own set of advantages, explains Dean Chiles, Account Manager at IEF.
"Horizontal form fill & seal machines (HFFS) will best suit products that are solid and easily contained and handled, while vertical form fill & seal machines (VFFS) are better for products that are loose, granulated or doughy," says Chiles. "They're also very good for packaging sauces and liquids."
The composition of VFFS and HFFS films are slightly different. In the VFFS production process, the product is filled in one film, which is then sealed at the top, simultaneously creating the bottom seal of the next bag.
In the HFFS process, a thicker bottom film, or forming film, is applied before the top film, known as a top web. The bottom film provides increased protective capabilities, while the top film can have branding or nutritional info applied.
Keeping foods fresh and air out
HFFS and VFFS films are popular due to their suitability for a wide variety of products. Everything from meats, cheeses, cereals, nuts, dried fruits and much more can be found using this versatile packaging type.
As a barrier film, the most important role of HFFS and VFFS films is keeping the food inside fresh by preventing oxygen from entering the package. A broken seal may cause the product inside to leak out while letting air in, spoiling the contents of the package.
That's why it's important for film formulators to invest in high-quality extrusion machines to reduce failure rates and preserve brand and product integrity.
"IEF has recently invested in new machine assets that use state-of-the-art technology to create these films," says Chiles. "These aren't new films for us, but we've improved and enhanced them based on the equipment we've been able to secure."
IEF Fresh and Frozen Webinar
These useful films are also among the stars of the 'Fresh and Frozen' virtual webinar hosted by IEF, featuring IEF's new capabilities and equipment.
The event, which will be held at 2:30 PM EST on December 16th, 2020, will showcase some of IEF's new innovations regarding HFFS and VFFS films, films for lidding and chub applications, forming and non-forming packaging, and much more.
For more information and to register, click here.