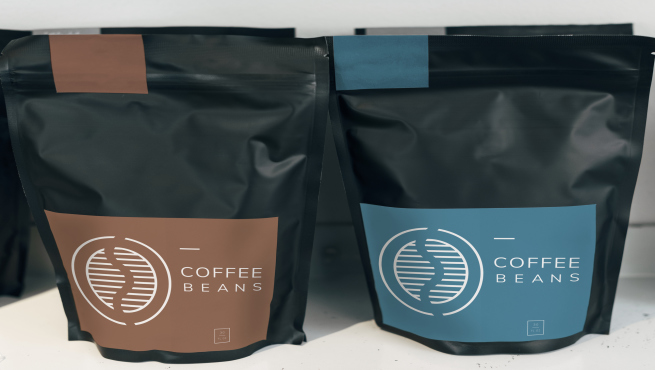 Stand-up pouch films have been making waves in the packaging industry in recent years, thanks to their flexibility, aesthetic appeal and low cost. These pouches and other flexible packaging options often use a sealant web to provide a strong yet flexible seal.
As the demand for these products continues to grow, IEF is excited to introduce stand-up pouch films to its standard product offerings, enabling shortened lead times, increased efficiency and a simplified purchase process.
We discussed stand-up pouch and sealant webs with an IEF expert to learn more about their appeal.
The role of stand-up pouch films
Look no further than your kitchen pantry, and you'll notice the wide variety of applications and products stand-up pouches are used in: beef jerky, granola, rice, nuts and coffee all make use of this packaging's flexibility and protection.
"Stand-up pouches are a big market right now because a lot of companies are trying to move products out of rigid packaging into flexible packaging, says Steve Brzostowicz, Technical Director at IEF. "With flexible packaging in roll-form, it's very efficient to get the packaging from the packaging supplier to the manufacturer."
In addition to being efficient to store and transport, stand-up pouch films provide excellent barrier control for extended shelf life and are often resealable, keeping foods fresh for a longer period of time. Their unique design helps them stand out on store shelves, and they can be modified to have transparent windows, handles, and more.
In order to overcome the stresses of everyday life, however, a proper seal for the pouch is essential. Rough handling and extreme temperatures can lead to a pouch failure, damaging the product inside. In pouches with more than one plie, a sealant web must be used.
"The role of the sealant web is to create a hermetic seal around the pouch to protect the contents from contamination and from spilling," explains Brzostowicz. "The vast majority of pouches are going to have a polyethylene sealant. You can have polypropylene sealants, but generally it's polyethylene or a co-polymer of polyethylene, whether it's EVA or some type of EMA."
In addition to its protective capabilities, stand-up pouch films can also be modified to provide different aesthetic characteristics or functional properties, including oxygen or moisture barriers, pigments, anti-fogs or anti-statics, and more.
The seal application process
In stand-up pouches that consist of at least two plies, the inner sealant web provides the essential protective seal. In the heat-sealing process, the polyethene layers are melted and bonded together with a heat-sealing machine.
There are some considerations to take into account, however.
"One of the big things about sealant webs is making sure that you have the right slip agent," explains Brzostowicz. "Most of the time the customer is going to be looking for a high slip film, which is going to have a low COF."
A lower coefficient of friction (COF) makes it easier for processing facilities to fill, store, form and transport the packaging.
The type of polyethylene used for the seal must also be taken into consideration depending on the end-use of the package.
"Most of what we use now is going to be in metallocene, but we have different grades depending upon the product that you're going to fill and the speed at which you're trying to fill it," says Brzostowicz. "A higher performance metallocene will give you faster seal times, and also help if you're trying to seal through a product that's going to have moisture in it or anything else that can interfere with the sealing."
Efficiency and sustainability
Aside from aesthetics and protection, there are two additional big benefits for stand-up pouch films: sustainability and cost.
"A lot of our pouches are all-polyethylene," says Brzostowicz. "An all-polyethylene stand-up pouch consists of a high-density co-extrusion that is designed to replace polypropylene or BOPP laminations."
Polyethene offers greater recyclability than its polypropylene or BOPP counterparts, and is accepted at most recycling centers.
"One of the downsides of a lot of traditional pouches is that because they are dissimilar materials, they can't easily be recycled," explains Brzostowicz. "Products that are all polyethylene can be recycled back into the polyethylene stream."
In addition to its recyclability, stand-up pouches create fewer emissions from their transportation and use.
"The problem with rigid packaging is most of the time you have to ship empty, rigid containers, unlike plastic or with flexible packaging in roll form," says Brzostowicz. "You also typically end up with less overall plastic waste with pouches, because the gauge is much thinner."
Quality comes standard
A variety of stand-up pouch film products have joined IEF's line of standard products, which means they're easily distributed and cost-effective. IEF is in a unique position for distribution thanks to a number of production locations across North America.
"We have the ability to produce most of these films in multiple locations, which gives us an advantage," says Brzostowicz. "If we have extended lead times from one location, we have the flexibility to move it to another one to make sure we stay as responsive as possible."
When it comes to formulation capabilities, sometimes less is more. In the majority of packaging applications, fewer different materials used mean better recyclability and a lower cost.
"A lot of films out there are over-engineered," says Brzostowicz. "We were able to design a more effective material that's less expensive, which is the goal for everybody.
To learn more about the capabilities of stand-up pouches and our formulations, get in touch with one of our experts.