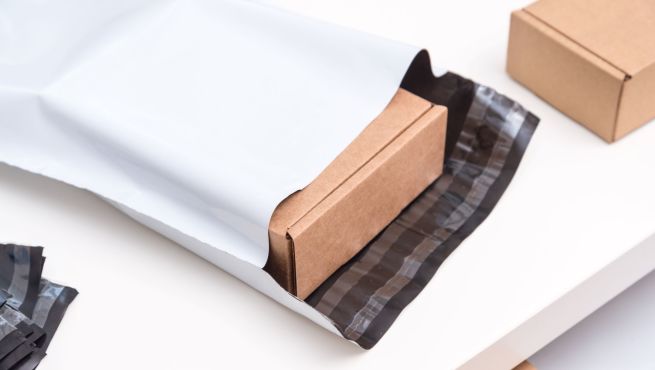 With an extensive amount of experience in servicing some of the largest e-commerce companies in North America, we've developed a film portfolio that covers the total e-commerce flexible packaging spectrum. Backed by an offering ranging from tried and tested standardized films to multifaceted customizable solutions, we're confident in our ability to service our customer's e-commerce packaging needs. Let's take a look at a small sampling of the different e-commerce packaging applications we can supply films for.
Poly Mailer Bags
Over the years, IEF's technical team has developed a proven portfolio of standard product films for traditional lay-flat PE mailer bags. We have options available for a variety of colors, and can feature matte or gloss finishes depending on our customer's application.
IEF can also customize our films for mailer bags to include various amounts of post-consumer or post-industrial recycled content. Reach out today to learn more about our InteGreen™ family of sustainable films.
Poly mailer bags have dominated the e-commerce packaging market in recent years. The bags are a perfect fit for smaller, non-fragile goods, as they provide great protection from the elements and the rigors of the shipping process, while also remaining very lightweight and compact. When compared to alternatives such as corrugate boxes, PE mailer bags can create significant freight savings as more packages can be loaded on each shipment.
Customized Bubble Mailers
Bubble mailers have become increasingly popular in the e-commerce packaging world recently, as they provide the same benefits as regular mailer bags but with the additional capability to package more fragile items.
Bubble mailers typically feature a poly or paper skin layer, with a PE bubble layer inside to help cushion and secure the contained goods.
IEF can supply customized films for bubble mailers and multi-layer mailer bag constructions. Working closely with our technical team, we analyze our customer's intended application to determine the most suitable film blend, then get to work making the product. The end result is a film that we're confident will meet or exceed our customer's expectations.
Customized Protective Pillow Packaging
Protective pillow packaging, sometimes referred to as void-fill, is a packaging material meant to help cushion or protect goods during shipping. These protective packs are made using a specialized film that is blown up with air to create a pillow.
You typically see pillow packages used in conjunction with larger corrugated boxes or poly mailer bags to fill out the extra space in the container and to hold the goods in place. Without the air pillows, the goods can slide around the inside of the container during shipping, potentially causing damage.
IEF's films for protective pillow packaging are typically customized based on the intended application. We can supply films for a variety of pillow pack sizes and packaging applications. Reach out today to see how we can help service your next project.
Interested in learning more about our e-commerce packaging film portfolio? Contact your local film expert today for more information.
At IEF, It's About the Film.