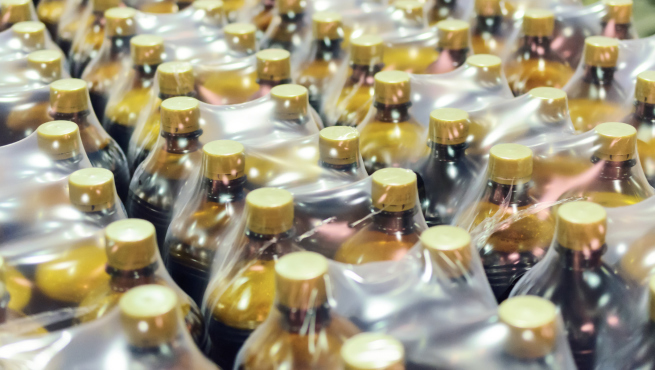 Knowing your application is a big part of understanding the type of engineered film that will make your product shine on the shelves, and protect it as well. When it comes to six packs of soda bottles or 24 packs of water, shrink films are the ideal choice.
Shrink Film 101: The basics
Compared to other engineered films, shrink film can be simple or complex, depending on how you intend to use it. While shrink films are traditionally blown, their design allows them to do exactly what they're named for: shrink.
"Shrink films have a low-density polyethylene base and are designed to shrink down to surround the product, providing a tight, form-fitting package when they are exposed to high temperatures in a heat tunnel," said Steve Brzostowicz, Technical Director at IEF.
"The film's low-density is what gives it that shrink when it's exposed to heat," he says, adding that a linear low or metallocene material could be specified to add strength and some sealability.
The big factor for shrink film is being able to produce it at a low cost, which makes it viable in a number of applications.
"One such instance would be using shrink film as a dust cover. You don't need much for that purpose, it just has one job," says Brzostowicz.
But what if you need your shrink film to do more? Or, when it comes to marketing purposes, be more than just a dust cover?
Scaling up while shrinking down
If you're bundling bottles of water or sport drink together, chances are you want the shrink film to do more than hold your products tightly packed.
"As you move up in markets, clarity becomes critical to shrink film because you want your product to have great visibility. In this instance, you may still use a low-density material for your core, adding in higher-performance metallocene materials for improved abuse-resistance and aesthetics" says Brzostowicz.
Beyond that, the top-level shrink film features high clarity and high gloss, with surfaces that can take retail printing well. Yet, shrink film at this level becomes marketing for the product. In instances like these, formulations need to be exact and perform with a high degree of predictability.
"If you're printing on your shrink film, predictability becomes incredibly important," says Brzostowicz. "The blow-up ratio and draw-down ratio need to be similar every time because all of those affect the shrink properties and the printed graphics on the film, too. No one is going to want to see their logo warped or distorted on a package that is supposed to serve as marketing."
While IEF continues to develop new shrink film formulas to meet current and future customer demand, sustainability remains integral.
Not shrinking from sustainability
IEF's continuous focus on sustainability while producing formulations touches all of its engineered films, including shrink film. Whether it's recycling or regrinding films into existing formulations, IEF is constantly working with its customers to help them produce sustainable films without sacrificing performance.
To learn more about how IEF can help you develop shrink film formulations for your products or if you're looking for more sustainable films, get in touch with our experts here.